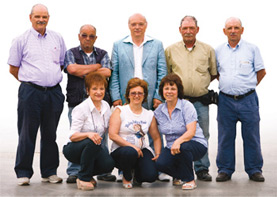 Recuperi Pugliesi Srl is a company that has been working for over forty years in the recycling of paper, cardboard and plastic industry.
The core business is the production of regenerated granule of LDPE through a latest generation system which provides the granulation of agricultural sheeting, plastic foil and plastic packaging after having been WASHED with biological purifier and extrusion.
The grain produced is the result by the refining with extruder EREMA with automatic filter at 130 BAR and 100 MICRON: this is, therefore, a granule of excellence.
In addition to the granule LDPE regenerated, the company also produces PP (polypropylene) granules, with direct transformation. Most of the productions find their place on the international market and, to that end, Recuperi Pugliesi has been authorized by the Customs to the transmission of the customs declaration on their own; this allows to speed up and control the customs operation export. In addition to the plastic regeneration and granulation, Recuperi Pugliesi transforms any plastic packaging, not intended for direct regeneration and granulation, in Raw Material (MPS) under the standards UNI 10667/2010 and any packaging made of paper and cardboard in Raw Material (MPS) under the standards UNI 643/2014, qualities 1:02:00 and 1:05:00, by selecting and pressing into bales, and allocating them to the international market.
Finally, Recuperi Pugliesi is also in possession of the AQSIQ license for exports to China of plastic and paper classified as waste for recovery.
CONTACTS:
Mario Schino
@ marioschino@recuperipugliesi.it
+390805360811 (only italian)
+390805360849 (english)

Annamaria Schino
@ annamariaschino@gruppoimmobiliareschino.it
+3488810630 (only italian)
AUTHORIZATION AND CERTIFICATES
Integrated Environmental Authorisation - A.I.A.
Determines the Province of Bari No. 313 of 29/03/2013 and subsequent amendments - Maximum total authorized capacity amounted to 671.710 t/y of non-hazardous waste and 5.000 t/y of hazardous waste.


Registration National Register of Environmental Managers
For the following categories and classes: 1B, 4B, 5D, 8E, 9D, 10A cl. d, 10B cl. e


Transport authorization in third account
n. BA / 7459 214 / M - Unlimited


ISO 9001
Certification Issued by an accredited AFAQ AFNOR Certification


ISO 14001 certification
Issued by an accredited AFAQ AFNOR Certification


ISO 18001 certification
Issued by an accredited certification ACCREDIA CERTIQUALITY


AQSIQ License n. 1303772 expiring in 2018 for the export of waste included on the green list on the Chinese market.


Authorization by the Customs for telematic interchange of customs bill.